I was asked a question:
Quote:
Dear Mr Fishy, I have no confidence in water and too old for arm bands, can you help?
Well the simple answer is take swimming lesions !!!
But I will try to help you....
If you talk to the open water swimmers, they say wetsuits keep you afloat and warm.
Those on small boats like sailing dinghy or kayak's use buoyancy aids.
On the bigger boats life jackets.
If you watch this vid, you will see why.
Overall if your in and out of the water flapping around and there people to help you if there trouble.... a wet suit or buoyancy aid should be ok.
But .... if you hit your head.... they wont turn you and save you !!
Only a lifejacket will do that.
Watch:
So if this was me what would I use?
I feel adults should lead by example. No one in there right mind would let a child near water without a lifejacket. Today even pets wear them. So by wearing one you set a good example for kids and dogs
But you will look a bit silly in a lifejacket on the beach.
A buoyancy aid mite be right answer. They come in many styles and prices. I did replace one last summer due to my changing size and shape
A Baltic canoe buoyancy aid one size fits all - Yellow/Navy for about £35.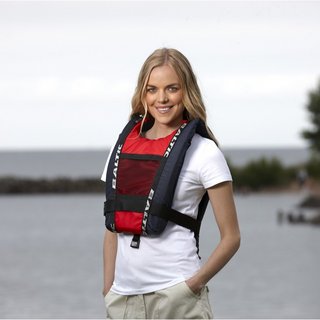 I hope that answers your question.